Yes, Honey Solutions continues to operate daily following the March 19, 2020 Guidance from Homeland Security concerning the Essential Critical Infrastructure Workforce.  "If you work in a critical infrastructure industry, as defined by the Department of Homeland Security, such as healthcare services and pharmaceutical and food supply, you have a special responsibility to maintain your normal work schedule."  
Specifically, Food manufacturer employees and their supplier employees—to include those employed in food processing (packers, meat processing, cheese plants, milk plants, produce, etc.) facilities; livestock, poultry, seafood slaughter facilities; pet and animal feed processing facilities; human food facilities producing by-products for animal food; beverage production facilities; and the production of food packaging
Honey Solutions is one of the largest dedicated organic honey  and conventional honey wholesale distributors in the United States. Honey Solutions provides approximately 25,000,000 pounds of industrial honey per year from coast to coast to America's most premier bakeries and food processors.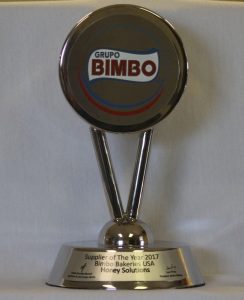 Preeminent Multi-branded Worldwide Food Processor has Chosen Honey Solutions for Value in 2017-18!
What are you  doing for your honey supply?
Contact us today for more information!