Honey Solutions TM continues to be one of the largest dedicated organic honey and conventional honey wholesale distributors in the United States. Honey Solutions provides approximately 30,000,000 pounds of industrial honey per year from coast to coast to America's most premier bakeries and food processors.
Honey Solutions TM continues to sustain its quality and regulatory commitments to its customers. 7 consecutive years of AA BRC (GFSI Standard) scores for food safety and conformance of readiness for FDA regulatory inspections, FSMA (Food Safety Modernization Act) including FSVP (Foreign Supplier Verification Plan),  Our Baytown Texas facility has produced year after 20 years of repeat business built upon our consistent quality, responsiveness, supply chain participation and honey market forecasting.
We deliver ready- to- use  domestic and imported honey to US and Canadian food processors across the continent . Our honey comes from apiaries employing  Conventional or Organically maintained apiary practices.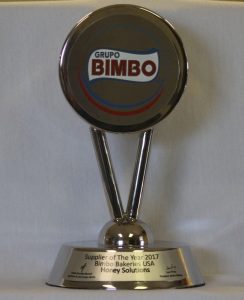 Pre-eminent Multi-branded Worldwide Food Processor has Chosen Honey Solutions TM for Value in 2017-18!
What are you doing to ensure top value from your honey supplier?

Contact us today for more information!